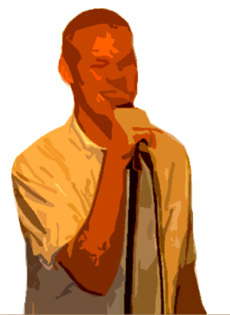 Zakk Wooten
Baritone

Birth Date: August 13, 1984
Place of Birth: Beatrice, NE
Musical Influences: Eric Clapton, Rockapella, Go Fish
Favorite Artist(s): Rockapella, Eric Clapton, Stevie Ray Vaughn, Tenacious
D, Brak
Makes Me Happy: Music, girls, girls, more girls
Ticks Me Off: Life, Money, people, just about everything... especially
girls
Favorite song(s): You're My Little Girl (Go Fish), Come What May (Moulin
Rouge!), Benny Hill Theme Song (Benny Hill)
Marital Status: Single (and looking for now)
Favorite Movie: Wayne's World, Tommy Boy, Police Academy 1 - ?, Vanilla Sky
Closet Fan of: Eric Clapton
Words of Wisdom: "Fake Out...YEAH!!!"

Background Info: Zakk is currently a freshman at the University if Nebraska. Zakk is majoring in vocal music education (his parents said he needed something to fall back on). Zakk was the Co-President and Co-Founder of Freestyle Walking Club along with fellow NBC member Justin Runge at Southeast High. He wants to perform as his career, but "I guess I will see where this all takes me." Zakk is a very outgoing but shy fella. He knows that doesn't make since, but if you knew him, you'd understand. Zakk likes to think he's funny. "I love music. I also love women. I enjoy looking at the stars on a dark, cloud-free night while lying next to the woman that I love. I love sensual nights alone, fireside, having long intimate conversations about why I AM TELLING YOU ALL OF THIS. SORRY. THAT'S IT, I GUESS?" Very funny, Zakk.