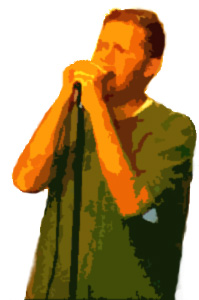 Nate Kellison
Lead

Birth Date: September 22, 1980
Place of Birth: Lincoln, NE
Musical Influences: Sean Altman, Rockapella, any a capella music
Favorite Artist(s): Rockapella, Eminem, Sean Altman, Jewel, Darren Hayes
Makes Me Happy: Good harmony, cool lyrics, Structure, golf, the female gender...
Ticks Me Off: Clashing chords, corny lyrics, spiders, the female gender...
Favorite song(s): People Change (Rockapella), Jesse's Girl (Rick Springfield)
Marital Status: Single (and looking)
Favorite Movie: American Pie, American Pie 2, Swingers, Office Space
Closet Fan of: Michael Jackson, N'Sync
Words of Wisdom: "If something seems too good to be true, it probably is."

Background Info: Nate has been singing since he was inside the womb. He sang with a professional children's choir (Bonae Cantores) associated with the University of Nebraska-Lincoln from age 9 to 17. He also sang with Chamber Choir, Court Choir, and Bel Canto (a capella group) in high school. Nate and Drew have sung together since 1998 beginning with a 4-man acappella group by the name of Uptown, which released a CD in June of 1998. Nate, Drew and Adam have sung together since 1999 with a group that they formed called Voice One. After many struggles of trying to get things under way, the three joined forces with Justin, Zakk, and Luke (Nate's younger brother), and with the 6 of them together they created the "wall of sound" known as NBC. "This is the one," says Nate, "We have all of the elements to create great a capella music; talent, commitment, drive, and friendship. It's finally going to happen! I can feel it!"