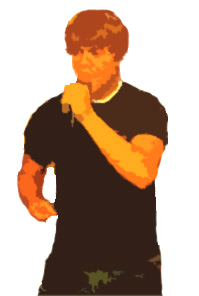 Luke Kellison
2nd Tenor

Birth Date: July 25, 1983
Place of Birth: Lincoln, NE
Musical Influences: Anything that grooves
Favorite Artist(s: D'Angelo, Maxwell, Rockapella, Bela Fleck and the Flecktones, P-Funk, The Roots, Frogwings, Red Hot Chili Peppers, Prince, Boyz II Men, MJ
Makes Me Happy: Um... anything that grooves
Marital Status: Loved and owned by the wonderful Mr. Lucas E. Kellison
Ticks Me Off: Styrofoam and lying.
Favorite song(s): Spanish Joint, Lady (D'angelo), Sinister Minister (Flecktones), The Work (Prince), anything Michael Jackson-ish
Favorite Movie: Magnolia, The Matrix, The Big Lebowski, Office Space, Jerry Maguire
Closet Fan of: Michael Bolton (honestly, he's talented).
Words of Wisdom: "Don't lie to people... God wouldn't."

Background Info: Luke's musical career as a singer was certainly unexpected. Before the sound of a capella filled his ears, Luke picked up a bass guitar at the age of 14. This, in turn, would eventually open up his eyes to the unyielding horizons of music. When his brother (Nate) and Drew produced their own a capella CD while attending high school, Luke realized that this whole singing thing might not be a bad idea. So, two years later, he auditioned and was selected for an advanced singing choir at his high shool. Having never sung before, Luke was shown the ropes of vocal music through his peers and through his outstanding instructor, Mrs. Joey Hartman. The next two years, Luke went on to be selected for two varsity choirs, along with starting an all-male quintet a capella group known as "Noblemen & Bel Canto" with Justin and Zakk. This group went on to sing for many occasions and events, including the College World Series and won the state talent competition for the Lions Club. They also produced their own album with original songs. However, Luke always wanted to sing with his brother and friends so, when high school ended, the two groups' leftover members came together to form "NBC", sometimes known as the "Supergroup". Luke believes that this group will be the one that "makes it" musically. He also gigs with his two bands regularly and is slowly becoming known as the funkiest bassist in this region. Whatever he's doing, he luvs him some music.