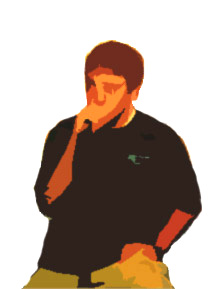 Adam McCarville
Bass

Birth Date: March 26, 1981
Place of Birth: Lincoln, NE
Musical Influences: Temptations, Marvin Gaye, Rockapella, Jackson 5
Favorite Artist(s): (See Above), Craig David, Warren G, Tenacious D, John Mayer
Makes Me Happy: Music, fishing, skiing, family, friends, college, football
Ticks Me Off: Long lines, snobs, liars
Favorite song(s): Lots of songs…
Marital Status: Bachelor
Favorite Movie: Billy Madison, Tommy Boy, Office Space, Tombstone, Forrest Gumo
Closet Fan of: Michael Bolton, Vanilla Ice, 80s hair bands, the entire country genre
Words of Wisdom: "Life's a garden. Dig it!"

Background Info: Adam is born and raised in Lincoln, Nebraska, where he has lived for the past 21 years. Throughout his life, he has spent a lot of time devoted to music, whether it be a church or school choir, or just sitting in his basement singing along to his favorite records. Adam got his start in music when he was discovered by Lou Pearlman at the ripe age of 4 and signed to a multi-million dollar recording deal, which he tragically lost at the age of 4 ½, when he hit puberty and went from a 1st soprano to a bass. He is now the residing "guy who sings low" for NBC, the hottest thing to come out of the Midwest since Kool-Aid!